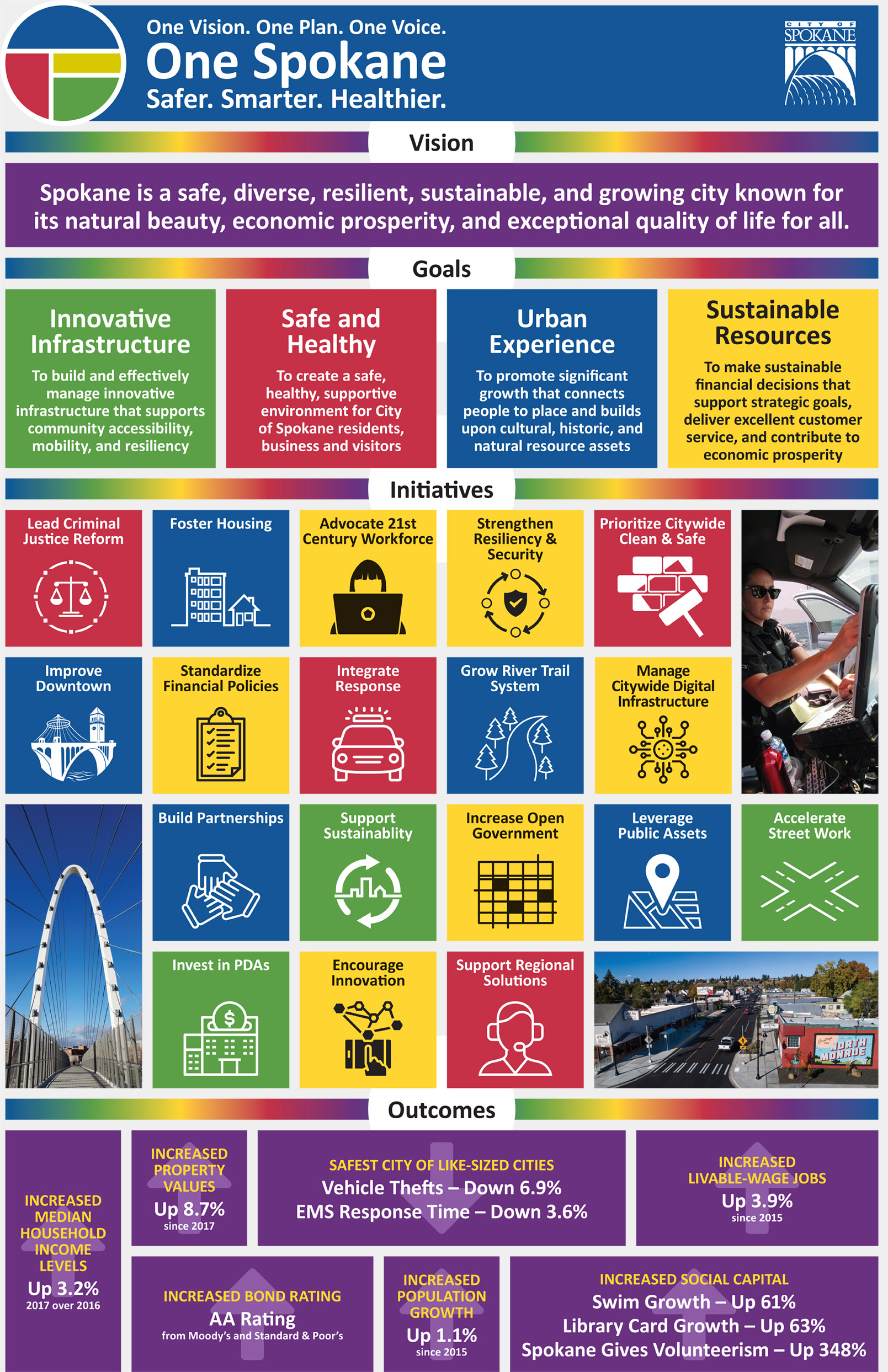 Spokane has changed for the better
One doesn't have to walk far from City Hall to see a redeveloped world-class park where employees of new local businesses spend their lunch break with a walk along a river that's been revitalized and made cleaner and safer. Excellent restaurants and shops populate buildings that were once vacant. Improved roads throughout the city make it easier for residents and visitors to get around.
These changes required the effort and skills of countless City employees, metro partners, the City Council, as well as everyone in the community. Much of this progress has been a result of the One Spokane strategic plan that paved a pathway toward a safer, smarter and healthier city. Developed jointly with the Spokane City Council, the plan aims to provide citizens with the services and public safety they deserve, while also making sustainable financial investments in our streets, parks, libraries and other foundations of the City. One Spokane uses regional partnerships to maximize the impact across the community without exceeding the budget the public has entrusted my Administration to manage. The plan is composed of four key initiatives that lay out a vision of a prosperous, healthy and growing city, now and in the future:
Safe & Healthy
To create a safe, healthy, supportive environment for City of Spokane residents, businesses, and visitors.
Innovative Infrastructure
To build and effectively manage innovative infrastructure that supports community accessibility, mobility, and resiliency.
Sustainable Resources
To make sustainable financial decisions that support strategic goals, deliver excellent customer service, and contribute to economic prosperity.
Urban Experience
To promote significant growth that connects people to place and builds upon cultural, historic, and natural resource assets.
This work isn't finished. Many of the projects are ongoing and will have impacts that last far into the future. Below you can read stories that reflect on the positive outcomes this community has achieved, as well as view the full One Spokane progress report. Working together, we will continue to build Spokane as the City of Choice.
Spokane is a safe, diverse, resilient, sustainable, and growing city known for its natural beauty, economic prosperity, and exceptional quality of life for all.